Courses
Learn more about our different curriculums and course options. You can find a list of our courses below.
Overview
Our courses are designed to propel you into a career within the Software Development industry. Every student has different learning requirements, so we offer courses that are Full Time or Self-Paced.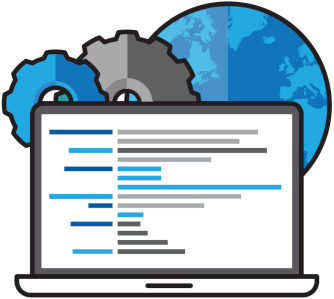 Full Stack Software Engineering
---
---
Next Live Class
Coming Soon!
---
Live

vs.

Self-Paced
Live Program
The Live Course is a 9 week, 30 hours per week, traditional bootcamp experience where you will be learning lessons and building projects in a virtual class setting with live instructors and teacher assistants. Class is held over Zoom, where you and your other aspiring classmates will learn, engage, and grow in your programming skills throughout your time in the course and beyond. Your cohort size will range, but we like to stick to 20 or less students per cohort so that we can maximize your learning experience and provided assistance.
Self-Paced Program
The Self-Paced Program is a learn-at-your-own-pace style course that gives you the flexibility of learning on your own pace and time. You'll have all of the lesson materials, exercises, quizzes, and videos at your finger tips, as well as full time tutoring assistance from our Instructors. Students usually complete the Self-Paced Program between 3 to 6 months.
Unlimited

1-on-1 Support

At our school's core, we want to provide as much assistance as possible on an individual basis. Whether you are in the Full Time or Flex Program, we offer unlimited 1-on-1 tutoring throughout your time in the course and even after you graduate. Yes, that's right. That's how important it is to us that we provide you with the help you need.
A
Fun

Learning Experience

Learning to code can be difficult, so we round our courses out with a high-energy, fun environment.
Find the Right Course for
You
Explore our available courses to learn more about what each has to offer, and which will be the right choice for you.
From Unemployed to
Software Developer
Watch Seaborn's
True

Coders

True Story
Where Our
Graduates

Work