The Career Earnings of a Software Developer
2021-05-13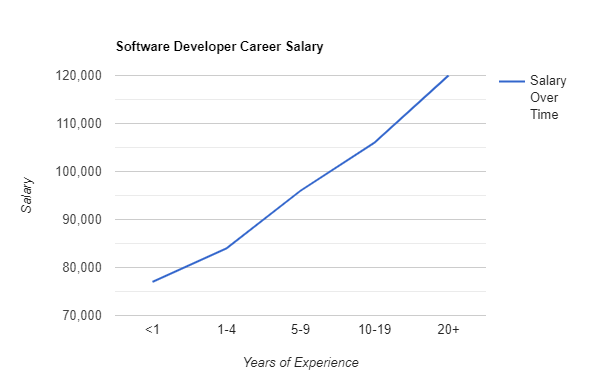 When it comes to Software Development, it's one of the most in-demand positions in the world. There's a constant need for talented people that can efficiently produce great software. "Stability is great, but what about the compensation?" you may be wondering. Software Development is also one of the most well-compensated positions over the lifetime of a developer's career! Let's dive into what you can expect as a developer in regards to salaries.
Let's start at the beginning. You've recently graduated college or a Bootcamp, and you've landed your first job! Congrats! In your first position, you can expect an average salary of $77,000. This salary is a fantastic starting point for the beginning of your career. You're still going to be learning all you can about whatever frameworks and languages your company will be utilizing. Take advantage of this time to absorb as much information as possible and become an invaluable asset to your team!
Within the first few years, you've had the opportunity to prove you're reliable and take the next step in your career; becoming a mid-level developer! This promotion naturally comes with more responsibility, but with more responsibility usually comes a pay increase. Now you can expect an average salary of $84,000. Given this varies depending on your company and local cost of living. You'll likely stay in the mid-level dev position while you're mastering your craft and becoming an expert in your field. It may take a few years, but you'll likely receive some periodic pay increases throughout this time before you become an expert.
Now you've spent many years mastering your craft. It's safe to say that you're a well-experienced senior developer! Becoming a senior developer means that your opinion will be sought after when the company wants to make changes to the product. Your opinion and expertise will hold significant weight. The average salary in this position can vary widely depending on several factors. A safe estimate is around $105,000. This salary will only continue to increase as you continue to master new languages and frameworks. From this point in your career, the sky's the limit! Keep over-achieving! The potential is limitless in what you can achieve.
In conclusion, the average salary of a developer depends on which stage of your career you're at. There are other variables, such as where you're located, the company you're with, etc. One thing's for sure, that the salary of a developer only rises with time! Software Development has continued to be one of the best career choices for people all over the world. So what are you waiting for? Start your journey to becoming a Software Developer today at TrueCoders!
---