A Few Frequently Asked Questions: Answered By TrueCoders
2022-08-16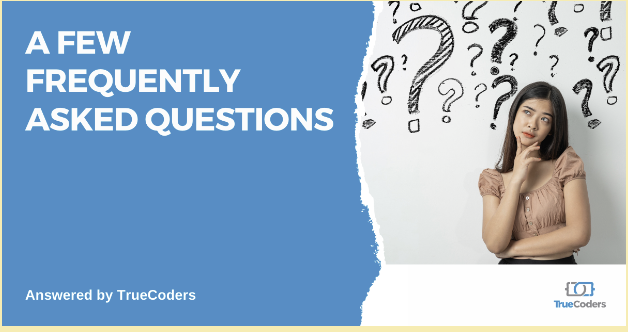 Tons of people want to get into the world of Software Engineering, but a new career comes with a lot of questions.
Luckily, TrueCoders loves answering questions! We wouldn't be very good at the whole 'helping you code your way to a new feature' thing if we couldn't handle your questions, right?
So here are some frequently asked – and answered – questions we get from people looking to leap into coding.
How long is a TrueCoders course?
Our two in-class courses – Web Development and Software Engineering – run for nine weeks. During those nine weeks, you'll Zoom into a virtual classroom of about twenty students Monday through Friday, 9 a.m. to 3 p.m. central.
Do you offer a self-paced option?
Yes, our Flex Program. The Flex Program also comes with our signature unlimited one-on-one tutoring sessions, just like our in-class options. You can schedule one-on-one tutoring sessions Monday through Friday, 9 a.m. to 5 p.m. central.
How much time do I have to finish the Flex Program?
As much time as you need! After you pay, the course material is yours to complete at your leisure. Whether it takes two months, six months, or two years, we'll be here to help you if you ever get stuck.
Does everyone get accepted?
If you have the right hardware/software and a desire to learn, then you're in! Nine out of ten students who learn with us have never even seen a line of code in their lives, so an extensive coding background IS NOT NEEDED.
All you need is:
A reliable computer with a webcam
Reliable internet connection
A quiet place to work
We recommend that your computer has at least:
250 GB SSD
8 GB Memory (RAM)
Standard GPU
Recent i5 or i7 CPU, or equivalent
How are TrueCoders courses set up?
Our courses are broken up into lessons; each lesson has a similar structure: Instructors cover lesson materials (if you take the in-class course option)
We supply documentation and supporting lecture videos
We supply videos to help you understand the lesson's subject matter
You take a quiz/test(s) with a supporting explanation video(s)
You create a project to apply what you've learned
Do I get access to a lot of exercises and examples?
Definitely. Exercises come with correct answers and video explanations that walk you through the problem step-by-step. You can also ask your instructors or fellow students for more clarity in class OR set up a one-on-one tutor session outside of class.
Do you offer practice tests?
We have 50+ quizzes/tests - each with at least 10 questions.
But, you won't really need "practice" quizzes with us. You aren't receiving a grade in the traditional academic sense. Tests and quizzes are there for you to gauge your understanding of the material, not to give you a letter grade and move on.
If you don't do well on a quiz or test, don't worry! That just means we'll focus on reexplaining the material. A failed quiz isn't going to derail your TrueCoders course; that's not how we teach.
Do I have to pay for a course if I don't finish it?
Our main goal is to help you succeed. If something prevents you from completing the course, we'll work with you and set up an option to either retake the course or complete the lessons you miss in our Flex Program.
If that isn't an option, you can request a full refund (minus a 2.9% processing fee) within the first 5 days of the course. After that, you may receive a prorated refund based on the remainder of your course.
Do I have access to the material forever?
Yes! Once you complete our course and become a TrueCoders Alumni, you're a lifelong member. You gain access to our private Discord, connecting you with our former and current students, instructors, and Career Services Department.
You can use this resource to stay up-to-date on the coding landscape, network with fellow coders for job opportunities, and update your resume.
How do I pay for my course?
You have a few options. You can pay upfront, through an education loan from Ascent, or through an Income Share Agreement (ISA). Our ISA option is only available to students taking the self-paced course.
Paying upfront costs $6,500 for our in-class options and $4,500 for our Flex Program.
Who qualifies for the ISA?
We partner with MiaShare to provide our ISA offering. Unfortunately, they don't share the ISA qualification parameters with us.
How much does the ISA cost?
Once approved, your ISA works like this: you make a $250 deposit to take the course. After graduating, you will make monthly payments once you have a job earning $32,000+.
8% of your yearly salary will be taken and divided by 12 months to calculate your monthly payments. For example, ($50,000 X 8%) / 12 = $333 a month.
You will make 36 payments OR pay until you reach a $9,630 cap – whichever comes first.
But I have more questions?!?!?
And we have more answers. Just give us a call at 205-843-7103 or schedule an appointment at https://truecoders.io/contact and we'll do everything we can to help you prepare to transform your life.
---