3 Job Hunt Tips for the Successful Introvert
2020-10-26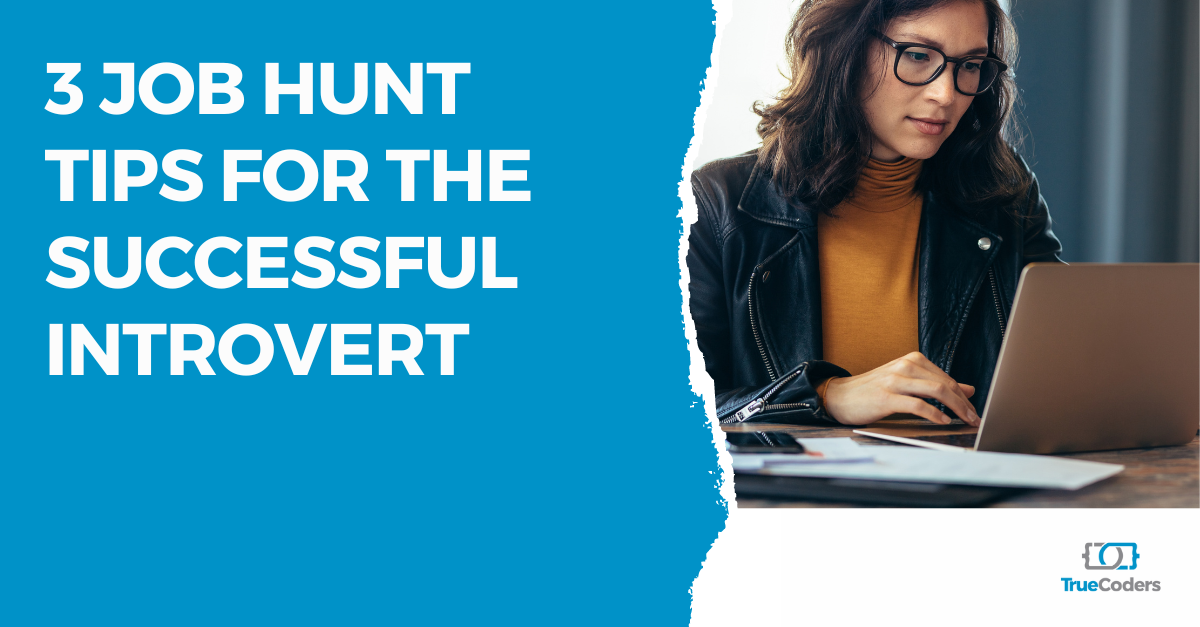 So you don't like public speaking. No big deal. You enjoy being alone. Great. Going to parties might send you close to a panic attack. Don't sweat it. Today's culture of over-share might make you think that you have to be a Gary Vaynerchuk to be successful, constantly promoting yourself in public and curating your personal brand (although it wouldn't hurt). But let's face it. That life is not for everyone.
Fortunately, we have a job for you: coding. It's one career where you can just be you. But that doesn't mean that it still won't take some effort to promote yourself to land the job you want.
Denise Shines, the Director of Career Services at TrueCoders has helped hundreds of TrueCoders students land jobs at places like Regions Bank, CGI, Daxko, Pantheon, and many more.
Denise emphasizes that it's okay to be an introvert, but there are still some things that you have to do in order to land your dream job. Here are three tips to get you started:
Your Appearance Matters. As much as we don't want to admit it, appearance does make a difference. Again, this is not about being something or someone that you are not, but you have to consider how you present yourself in an interview. If your hair is not neat or needs a trim, that's going to send a message to your potential employer. The same goes for your clothes or your outfit. Make sure it's neat, coordinated, cleaned, and pressed. Plus all the other rules apply when it comes time for your interview. Make eye contact and use a firm handshake. These are just the basics and employers will expect you to be able to at least do that to succeed.
Have an Elevator Pitch. We get it. You don't like to talk and you really don't like to talk about yourself. But if you want to land that career you love, you're going to need an elevator pitch. It's just a simple way to sell yourself. It doesn't have to be more than a few sentences, but it should give a potential boss an idea of what you like to do, what you are good at, and why a potential employer should hire you. Keep it simple and keep it personal. It's a story about you, after all.
Create a Portfolio. If you don't like to talk in person, you can let your work do the talking. Create a portfolio of your samples, continue to practice your coding skills and always improve.
"Creating a portfolio is really the best way you can sell yourself," Denise says. "It really shows a potential employer what you are capable of and it shows that you have initiative. That means a lot to most employers."
Students always ask, How do a get a job if I don't have experience? A portfolio is the answer. Your portfolio should include projects you worked on while a student at TrueCoders. Denise adds that those projects don't necessarily have to be original ideas. "If there is an app out there that you like, you can recreate it. Or recreate it with improvements. Keep in mind that doesn't mean you can or should copy it. But you can recreate it."
Here are links to two portfolios we really love:
You may not be able to create confidence, but you can create an optimal scenario for yourself Learning to code is like learning any new language. You should continue to practice and never stop improving. Remember, ABC: Always Be Coding. Ready to learn to code? It only takes 9-weeks. Sign up at TrueCoders Enroll.
---