Coding in Your PJs: Remote Work in the Software Engineering Field
2022-05-27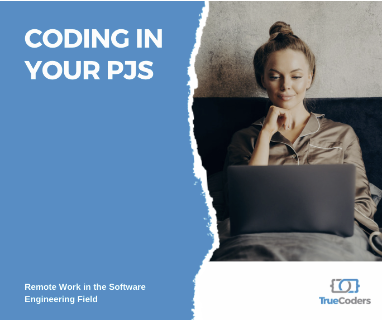 We've all known that fully remote work is possible and profitable for quite a while now, but companies have resisted for just as long. The same arguments always come up: people will be lazy… people will deliver shoddy work… people won't know what to do… people will leave us.
Whether they like it or not, COVID-19 forced nearly every business sector to employ some sort of remote work situation. The results? Employees love it and businesses profit from it.
And Software Engineers benefit the most. Why? Let's break it down.
Shifting Trends
Let's look at the big picture before honing in on coders.
Compared to the start of the pandemic –– mid-2019 and earlier –– full-time remote positions across all industries tripled. Now, more than half of companies surveyed by the US Chamber of Commerce fully support some number of full-time remote positions, and the other half are preparing to integrate remote positions into their employment framework.
The "try it out" stage for businesses shifted to full acceptance in 2021 when some of the heaviest lockdowns hit. Nearly half of full-time employees were forced to work either fully or partly from home in September 2021. Rather than crashing businesses, this remote-friendly model saved many companies from financial ruin.
Remote employees crushed the stereotypes of working from home – putting in just as much effort –– if not more –– as in-office employees.
Techies Embrace Remote Work
Not surprisingly, software engineers and the tech industry have capitalized on remote work surge more than other sectors. Unlike most business sectors, the tech industry has been moving towards a majority-remote workforce for some time – the pandemic just expedited the process.
The numbers of remote workers here dwarf all other sectors. Over two-thirds of software engineers work remotely three or more days a week and over half work remotely full time.
Tech giants are moving just as quickly as startups, so software engineers are spoiled for choice. Industry juggernaut Meta (previously Facebook), with its near-50,000 employees, wants 50% of its workforce to work remotely by 2030.
The Pros of WFH
Remote work opens up a slew of benefits for software developers.
First, remote work cuts out a ton of expenses. Gone are the days of weekly gas trips to get through the next work week. This goes for the price tags wracked up by other forms of commuting as well, like buses, trains, or ridesharing services like Uber and Lyft.
Company positions – and the pay rates at those companies – are no longer geographically locked to where a coder lives. An Alabama resident can conceivably work remotely for a tech firm in California, bringing in Silicon Valley wages without immediately losing it all on West Coast living expenses.
And finally, the happiness factor. Remote software engineers are in control of their work lives, wielding the power to dictate their deserved place in a company. Working remotely means someone no longer needs to lose their entire lifestyle if they lose a job. All positions are within reach for remote software engineers, meaning companies have to fight to keep you.
The TrueCoders Advantage
So, where can you learn about software engineering to start capitalizing on this booming industry – all while working from the couch in a comfortable set of sweatpants?
TrueCoders, obviously!
We tailor our curriculum around one thing: making you a valuable asset for tech companies. With us, you'll:
learn full-stack software engineering (frontend and backend coding)
build actual coding projects to show possible employers
mold your resume and interview skills with our world-class job placement services
All that's just the tip of the iceberg when it comes to what we offer.
Your work-from-home career starts at TrueCoders. Give us a call and chat about starting your future coding career, today!
---