Future-Proof Your Future. Reasons to Start Coding.
2023-01-09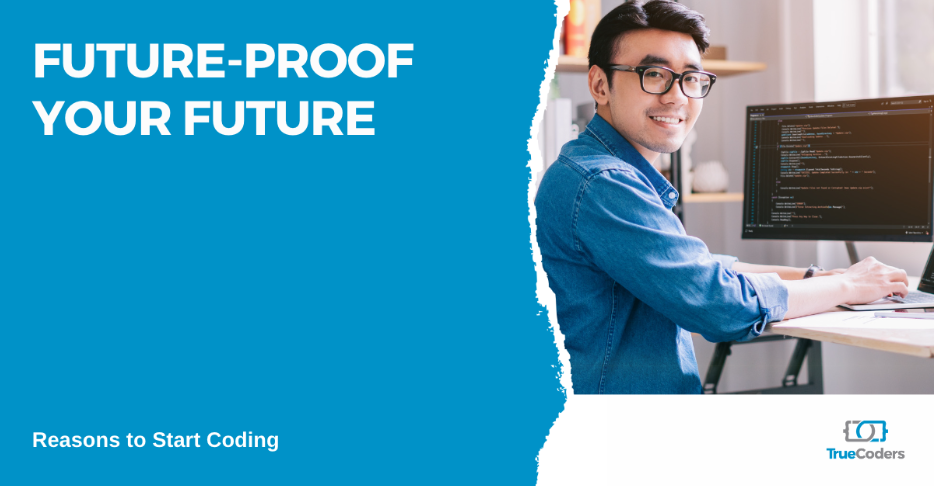 Another year has come to a close – and a whole lot of things have changed in the world.
But change isn't a bad thing. Plenty of people even make resolutions to change with the new year. Some are small changes like giving up coffee (not happening) or getting a walk in after work every day.
Some people, however, set larger goals. But where do you start?
One place to start is coding. And the best place to start coding is with TrueCoders.
Future Shield
Nowadays, work doesn't always mean going to work. The pandemic forced many businesses to move towards remote working situations and online models of operation.
Many software engineers worked partially from home as the norm before COVID-19. Now, tons of coders are full-time work-from-home employees. Thanks to the tech they work with and the skills they have, coders continue to be in demand as more businesses require their services to operate in the new digital marketplace.
The shift to at-home work is smooth sailing for the field.
Climbing Digital Ladders
It's getting more and more common to feel 'stuck' at work. Employers are happy to keep you working the same schedule (or piling more on) while glossing over the whole pay raise thing.
Coders don't have this problem. Thanks to their vital skill set, coders typically enjoy more freedom and concessions from employers. Without them, work just doesn't happen – this dramatically increases the bargaining power of software engineers.
This necessity of coders also means they typically receive promotions (and raises) more frequently compared to otherfields. No more workload increases that don't come with pay increases!
Skill Collector
It might sound odd, but coding isn't the only thing you learn through coding.
There's more to software engineering than just typing at a desk. You have to manage your time effectively, learn new technologies and adapt previous assumptions, and work with others effectively while you and your teammates move digital mountains.
All these skills dramatically increase the toolset you can pull from to achieve your goals, even if you move into a field unrelated to coding. TrueCoders' President, Michael Doyle, uses the team management and organizational skills he developed as a Scrum Master to keep TrueCoders running smoothly and efficiently.
Make Us Your Resolution
Coding is the way to go if you want a solid, secure future. It offers competitive pay, protection from economic forces, useful skill sets, and an all-around engaging and rewarding career path.
But where to start?
Right here, with us.
TrueCoders has a host of benefits that you won't find anywhere else – not at college or other bootcamps.
Flexible schedules to finish fast OR at your own pace
Unlimited outside-of-class tutor sessions
Access to 300 hours of lessons and tutorials
Career services to prepare your resumé and connect with companies
Access to our Alumni Discord to stay in touch, brush up on skills, and get connections anytime after you graduate
You want to get this year off right. You want to make a shift to something better. We can help you do that. Get in touch with us, and let's get started together.
---