Circuit Boards in Stockings, and RAM Under the Tree. 20 Great Holiday Gifts for Coders and Techies.
2021-11-30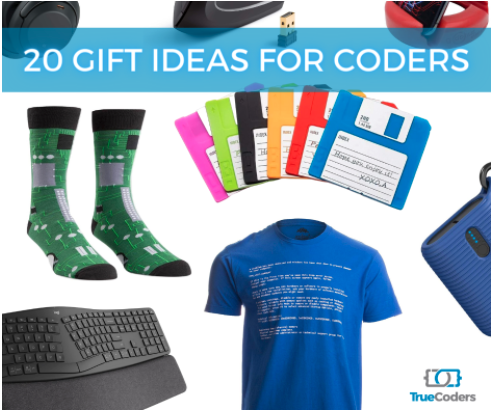 Christmas is coming up. That means good food, fun with friends and family, and of course… PRESENTS.
The only thing better than getting that gift you've wanted all year, is seeing someone light up when they open a gift you picked out.
Here's some cool stuff you can get that coder (or soon-to-be coder) to make their Christmas morning great.
High Tech Hits
The Key(board) to Good Coding. A coder is going to need a solid keyboard to code. It's just a fact. Why not make it as easy as possible with an ERGO K860 keyboard from Logitech? You can't have that techie getting wrist pain, and they won't with a keyboard like this.
Sound Focus. Coding requires concentration. Gaming requires concentration. Sony's noise-canceling headphones give you concentration. Whether that software engineer on your list likes to code in silence or to music, these headphones ensure that outside distractions won't stop the work or the gaming session.
A Mouse with the Most. If you use a computer, you're going to need a mouse. Why not make sure that mouse is the best around? Get the Anker ergonomic mouse, and give that techie comfort while coding and control while gaming.
Wireless Wonders. The Apple user on your list will definitely love unwrapping a pair of new AirPods Pro. Noise cancelation, great sound quality, 24 hours of listening time; that's all just the start.
A Big Boost. Nobody likes wifi dead zones. Techies and coders REALLY don't like wifi dead zones. Good thing the Google Nest AC2200 exists. It's a device designed to shore up those dead spots and make sure devices are downloading no matter where they are.
A Charge for the Whole Family. With all the devices out there, outlet real estate can get pretty tight in the family home. Fortunately, the JE triple charging pad will make fighting over chargers a thing of the past.
Sound Never Looked So Cool. Want to give your techie a speaker with great sound and great design? Get them the RUIXINDA magnetic levitating speaker. Looks great in a room, sounds great in a room. What more can you ask for?
Office Buddies
Powered by Java. Every software engineer needs the Mr. Coffee mug warmer at the ready. They can't keep coding without a steady stream of hot coffee, after all. But it is the holiday season, so feel free to substitute the coffee with hot chocolate.
Save Desktop Space. The average user might only need one computer monitor, but a techie has to go the extra mile. You can help them by buying the HUANUO dual monitor stand. Get them this, and they'll be screen swapping with ease.
Let's Whiteboard This. A coder isn't limited to high tech 24/7. Sometimes it helps to scribble out problems on a classic whiteboard. The VIZ-PRO dry erase board is a perfect addition to any software engineer's thinking space.
Take a Stand. As nice as having the internet at your fingertips is, holding a phone or tablet can get annoying. Coders need those hands for coding, so let the GoDonut Ultra device holder take up the slack. Convenient, cool designs, cost effective. What's not to love?
Who Needs Another Pain in the Neck? Sitting and coding can do a number on your neck. Good thing the Cunmiso neck massager can help. Get this device for the techie on your list, and make those long hours of staring at screens a bit more enjoyable.
Rest Easy. Headaches are a given when putting in the hours in front of a computer screen, but the TheraICE head wrap is designed to take the edge off. Your techie will thank you for this after putting ten hours into a coding session… or a gaming session.
Code-Brained
Tips by Design. Software has two parts: the front end stuff for the user, and the back end stuff that keeps it all working. Back end may seem like the most important part, but designing things to look and feel sleek and stylish is just as important. 100 Things Every Designer Needs to Know is a great gift to give that coder acquaintance, perfect for inspiring some creative designs in their apps and software projects.
Got Game? Learning to code can be tough. Why not keep it fun and lighthearted by throwing in games? Code Your Own Games!: 20 Games to Create with Scratch is great for that young coder-in-the-making on your list, or really anyone interested in coding at all!
The Future of AI. Artificial intelligence will be integral to our future, so why not get your techie a great book on the subject? AI Superpowers ponders how AI will alter the power dynamics of governments, how it will change the workforce, and how we can all deal with the shifting landscape of the future.
Fun Stuff
Are You Shirtin' Me? Blue screens of death are bad to see on a desktop, but hilarious to see on a t-shirt. A software engineer will love this design... as long as it stays off their computer.
Stick with the Code. Let your favorite techie coat their laptop in a few stickers so people know that they do, in fact, know the code.
Floppy Coasters. Floppy disks aren't all that useful in today's age, but they sure do make good coasters. Get a coder a set of these, and give them flashbacks to dialup and ethernet cables… if they were alive back then, that is.
Power to Go. On-the-go is a part of life, so get your techie an Outxe mini power bank. They won't have to worry about dead devices on a long flight or remote vacation as long as this device is with them.
Best Foot Forward. Isn't it weird how we hate getting socks as kids, but love getting socks as adults? Get your coder a pair of these bad boys so their feet stay warm and stylish over the holidays.
Give Someone's Future a Gift
All of these things make for fun, heart-felt gifts that any tech-minded person will love.
There's something else, though.
Giving someone the possibility of a better future is the greatest gift you can give. If you know anyone who wants to brush up on their coding skills or someone who wants to jump into software engineering with no coding experience at all, TrueCoders is the option.
We offer full stack courses in software engineering and web development, and our fantastic instructors are available for unlimited one-on-one sessions outside of our classes.
And those are just a few things that separate us from other coding bootcamps.
If learning how to code sounds like a great gift for someone you know, or even for you, then schedule a call today.
---