Game Dev in the Making: Mason Pysell's TrueCoders Journey
2022-10-27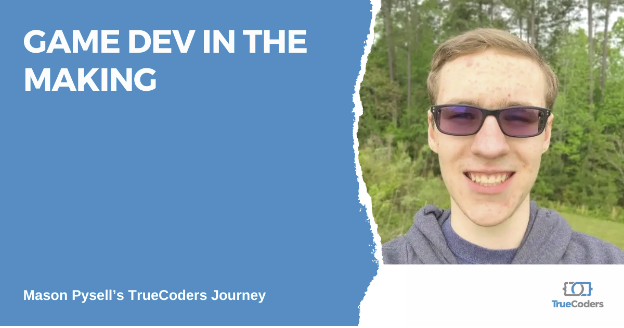 Seventeen-year-old Mason found himself in a predicament a year out of high school.
"I was running into a wall with the interview process. I've been coding since middle school, but I didn't know how to show my skills off to employers."
Mason scoured the internet, reading review after review for countless bootcamps, but one issue always kept coming up.
None of the bootcamps supported – or highlighted that they supported – the interviews a student would be going on after class.
Then, Mason noticed there was a different kind of bootcamp out there: TrueCoders.
Getting in Touch
"Mr. Sanchez (TrueCoders' VP) was very welcoming when I called," remarks Mason. "I was expecting an aggressive sales pitch, but it wasn't like that at all. I asked all the questions I had, and even some I came up with during the conversation. I never felt pressured. They wanted me to be sure I wanted to take their course."
Best of all, Mason found what he truly needed at TrueCoders: a stellar Career Services program dedicated to building his interview skills and showing off his talents effectively.
Back to School
Mason wanted to get things moving, so he elected to take the full-time class version over TrueCoders' flex class option.
"I didn't expect to learn many new things," Mason says, "but the instructors always managed to surprise me. They always had a different angle to make me reevaluate something I already knew."
Thanks to this unique take on instructing, Mason gained a deeper understanding of concepts like SQL, object-oriented programing, C#, and Git.
"The best thing TrueCoders gave me," Mason adds, "was the confidence to tackle the interview process."
Thanks to Denise Shines, Director of Career Services, Mason trained to speak with and impress companies during interviews.
"I can't describe how helpful that aspect was. It was a real confidence booster."
The End Run
For his final project, Mason put his new skills to the test and dove into the Unity game engine.
"I struggled with my final project for a while, but ended up creating a virtual reality game called Catch 22."
Catch 22 has players toss a ball to a target. Players earn points based on how close their throw gets to the target's center. Then, Mason coded the target to throw the ball back to the player, forcing them to catch it or risk losing points.
"The toughest part was getting the return throw to work – I reversed Newtonian equations of dynamics to basically work the physics engine backward. I never thought I could do all that in under two weeks, but TrueCoders helped me get there."
New Skills, New Future
Mason was already talented when he enrolled with TrueCoders, but our resources and instruction elevated his skills to a new level.
The right game dev opportunity hasn't come along just yet, but Mason feels a sense of comfort thanks to TrueCoders.
"There's a safety net now," he explains. "The games industry is very competitive, so I didn't expect to get a job right after graduating. But, thanks to their varied lesson plan, outstanding job placement training, and alumni support network, I can look for a job at my own pace. I can always put my TrueCoders experience to use and get a coding desk job while I look for that perfect position. Without TrueCoders, I'd have to flip burgers for eight hours a day instead. I can't express how much stress that takes off my mind."
What we teach isn't boilerplate information. We want you to succeed at what you're passionate about, whether that's coding for a company or making your own video game.
We did just that for Mason. We can do it for you, too.
---